whilst cruising for brewing supplies i came across a section that had stainless fermenters. as it turned out, there stainless fermenter was a 1/4 barrel keg with a single 4 inch triclover fitting at the top. one of the things they mentioned was that it could be used as a boiler for a still. i'm assuming they had gas in mind for heating. this gave me an idea.
just after i finished the squat pot, a couple of 1/4 barrel kegs came my way. one of these i had turned into a fermenter, coincidently similar to one i later came across on the web site during my wanderings. the main difference, is that i have a 2 inch fitting at the bottom as well for drainage :shifty: . i kinda like the idea of having the handles at the top, which is why i went to the trouble of removing the 2 inch fitting from the top and enlarging the hole to accommodate a 4 inch fitting, and cut a separate hole in the bottom rather than just flipping the keg over and cutting the 4inch hole in the bottom and keeping the original fitting attached.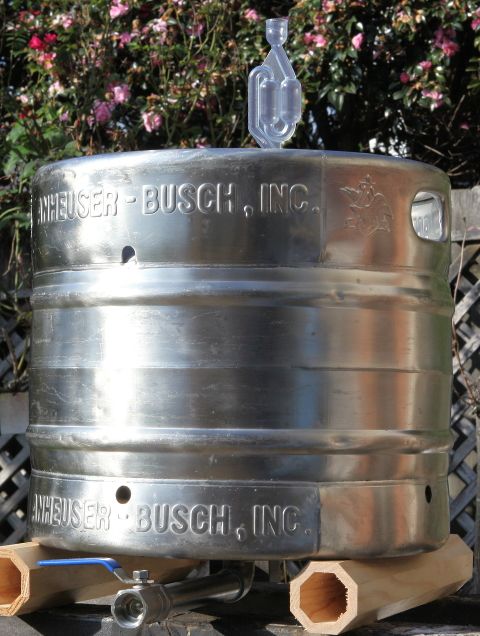 so the idea was this: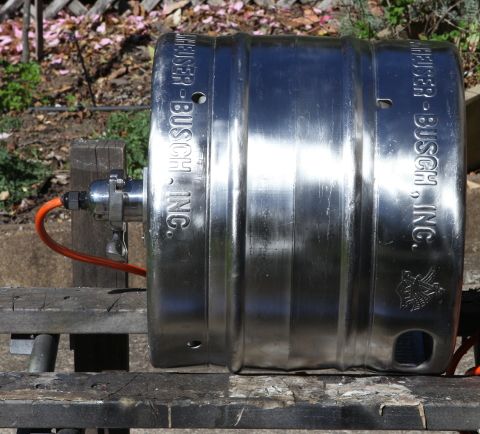 the main restriction is that the keg has to be pretty full. since it's a 1/4 barrel and not a standard half barrel, the 2400w element does take up a lot of the height of the vessel. the problem then becomes one of drainage.. the hole is plugged by the element 8-} . this was my solution: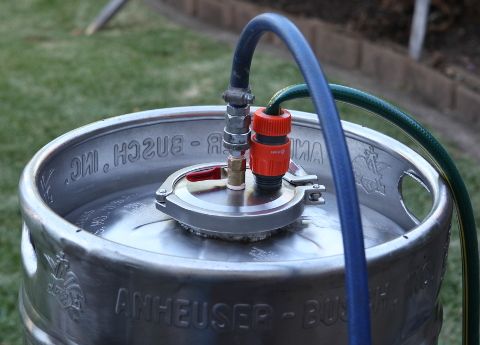 blue line is compressed air... only needs to be a few psi. the other line is the fliud, with a stainless sheathed hose on the inside. once the vessel starts to drain, syphon will do the rest, or slight pressure can be maintained to drain it faster.